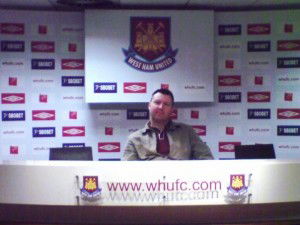 Top ClaretandHugh blogger Nigel Kahn has been one of Sam Allardyce's fiercest critics since he first arrived at Upton Park.
Here he looks at the new style on show against Hull City and wonders how the manager would prefer to play!
How good was that game on Monday night?
I don't believe there could be a single West Ham fan who,  when the final whistle blew, felt disappointed to come away with just a point.
We dominated the game, played with pace and passion, and showed great resolve to come back twice from going behind.
Sam it seems has taken to heart the owners request/demand for a more style and a blend of entertaining football.
His choice and use of the new players worked well as he set up with twogenuine forward players behind the one up front, and that wasn't Diafra Sakho who I would have thought was more a Sam-type of forward than Valencia.
The Ecuadorian's  goal has to be a contender for goal of the month and what made it so outstanding was the fact it came out of seemingly nothing.
To get that much pace from so little back lift with the defender not far off of him, especially when it seemed the chance to shoot had gone, probably made it the best first  goal scored by a new boy Since Tevez's free kick against Spurs seven years ago.
However, after the game, via social networks, there seemed still to be a divide between the pro and anti Sam camps.
It  was as if we couldn't just enjoy the game for what it was.  As a paid up member of the 'Sam out' brigade even I was surprised to be tweeted that this game didn't bode well for my agenda.
Well actually that game reinforced what many have been saying for a long time – that the team was capable of doing it different, there was no need for the dross we have been served.
In my opinions  too many west Ham fans readily accepted Sam's "respect the point," try not to lose negative anti football instead of going for the win and I won't apologise for not accepting it.
The performance against Hull should be rightly lauded but I need to see more of this in the coming weeks to be convinced he has changed.
I picked up the London Evening Standard on the way home and inside the headline had Sam saying, "Attractive football and not winning is no good to me, no good to the owners and no good to the supporters."
He has a point but to come out and say that after or perhaps even before one of the the best performances from a team of his  seems strange to me.
I point everyone in the direction of our 2-1 win over Hull last season. The victory that was so poor, no dreadful, I even sent an email to DS imploring him to get Sam out at the end of the season for the good of the club as it quite literally pitted fans against fans.
That win against 10 men led to him and his team being booed off the pitch, something I don't think has ever happened to any team after winning a game.
I may be alone in this but first and foremost I want to see a good game, with West Ham playing well, because when they that happens, win or lose,  you accept the result far more easily that when they stink the place out.
It does make me wonder what Hull game Sam would actually prefer, last season's 2-1 win or this seasons 2-2 draw, because when he comes out with comments like those above I actually believe he would have preferred a repeat of the March game.
Of course managers are judged on results but that is not the be all and end all to football. If it was merely about results then the fans would be better not turning up.
Instead, they could  just stay at home watching the results come in on Final Score or Soccer Saturday. It would be a damned sight cheaper. My mantra for Sam is: "Attractive football please and  if you play it the results will come"