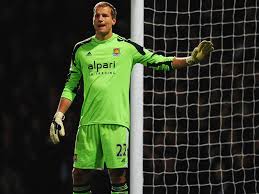 Jussi Jaaskelainen has agreed a new one year deal with the club!
The 39 year old has put pen to paper and is thrilled to have committed to a mew deal.
He told the official site www.whufc.com: "I'm delighted to sign for another season and I'm really looking forward to it.
"Hopefully I can put in a proper challenge to get a starting place again. Physically, I feel good now and I felt good last season so I hope I can carry on from there and play football.
"You never know what is going to happen next season, but the only thing in my mind is to get myself ready to play.
"I am looking forward so that when that next chance comes, I will be in the right shape and right frame of mind to take it. That's all I'm thinking about now.
Obviously we all know that, whoever is in the squad, we all want to fight for that starting place, so let's see. We're all looking forward to next season.
"I want to try my best and I'm going to give it a proper go to play well, so the first thing I have to do is look after myself to make sure I'm in good shape and a good frame of mind."