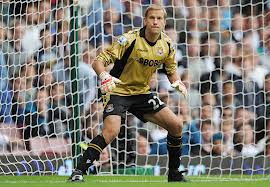 Jussi Jaaskalainen is the ultimate professional and not a guy to complain when things don't go his way.
And he demonstrated that perfectly when questioned about losing his place to Adrian between the posts.
First and foremost JJ is a club man and accepts that losing your place is very much part of the game.
And speaking to www.whufc.com he said: "It is part and parcel of football. Adrian has done very well, and the only thing I could do is keep working hard – the main thing is to support everybody in the team.
"He has been playing consistently well and that's the main aim for a goalkeeper. I can't have too much to be disappointed about.
"If you look at the season as a whole, we started by playing very well but we didn't get the results that we needed.
"When you don't get them, confidence drops and it was a tough season but we've come through it and hopefully next year will be better."