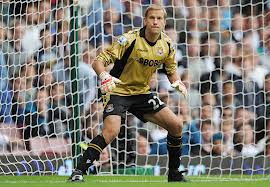 CandH Exclusive
Jussi Jaakalainen looks unlikely to receive a new deal from West Ham United next season.
The 39 year old – having been dislodged by the brilliant new Hammers cult hero Adrian – is believed to have a contract which stipulates that he has to play a certain percentage of games to trigger a new contract.
We have been told that in the keeper's case this is set at 75 per cent or 27 games and currently he has managed just 19 – or 50 percent – at Premier League level.
With Adrian's form of near superlative quality, it's now very unlikely that the Flying Finn will get the required number of games – barring an injury to the Spaniard.
A source told us: "It looks highly unlikely and, although there is no question of him playing on, it now doesn't seem as if that will be at Upton Park."