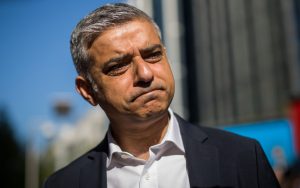 Sadiq Khan  has weighed into the London Stadium affair following the Burnley game declaring: " I condemn the mindless hooliganism of a small minority of people intent on disrupting the game."
Addressing the London Assembly question time he also claimed that 26 people were involved with four succeeding and that there were 150 separate incidents with 56 individuals of interest saying the coordinated move to the director's box was by a known group of individuals.
Khan told the GLA "I understand that many West Ham fans have concerns about the club and the way it is run but the scenes we witnessed at the London Stadium on the 10th March were a disgrace and I condemn the mindless hooliganism of a small minority of people intent on disrupting the game.
The safety and security of spectators and staff has to be the number one priority, a full detailed investigation is underway. Last week's emergency safety advisory group meeting sought to understand what happened and to identify improvements.
The safety advisory group recognised that the steward and security operation was stretched significantly by the unprecedented scale and volume of incidents.
Initial investigations show that a planned and coordinated campaign of disruption, more than a dozen fights broke out in parts of the ground between West Ham supporters at the same time
Twenty-six different individuals tried to get on to the pitch, twenty-two were stopped by stewards, four were successful
There were 150 separate incidents, many of them public order offences and forty assaults.
CCTV footage clearly shows a co-ordinated move by a known group of individuals to the director's box resulted in the scenes we all witnessed.A former Upton steward, a middle-aged women was knocked to the ground and was trampled by mindless thugs suffering whiplash and concussion.
Another ex-serviceman suffered severe bruising protecting one of the pitch invaders from the blows and kicks from other West Ham fans. Six of the 56 persons of interest have previously served banning orders at the London Stadium or Upton Park. I understand work is underway to identify, prosecute and ban all those responsible for violence and disorder at the match"
Despite the mayor's claims, the Met police say there were no arrests on the day of the incident and no-one has yet to be charged with any criminal offence although they admit that investigations are ongoing. West Ham have confirmed five supporters have received life bans.