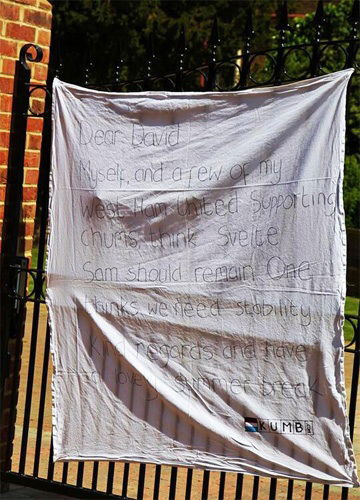 David Sullivan's Essex home was at the centre of a second protest over Sam Allardyce's future last night.
Just hours after the club chairman had made it clear that such demonstrations  went beyond what was "reasonable" fans staged a second demonstration
Earlier this week a 'Fat Sam Out' placard appeared on the railings of Sullivan's Essex mansion but the latest protest is asking  the co owners to keep him in charge.
Produced and signed by a member of a prominent fans' website it reads: "Dear David. Myself, and a few of my West Ham United supporting chums think Svelte Sam should remain. One thinks we need stability. Kind Regards and have a lovely summer break."

However, its appearance is likely to annoy rather than please Sullivan who responding to the 'Fat Sam Out' placard had told Sunsport exclusively: " "I appreciate people's feelings and running high, but it frightened my children.
"I think , probably not realising it, a few supporters crossed a line on what is reasonable."