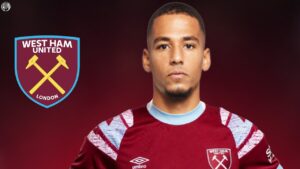 West Ham's Thilo Kehrer has come in for a fair amount of criticism following some dodgy defensive performances at both right back and perhaps to a lesser defence at central defence.
Mistakes have cost West Ham goals but he nonetheless was selected by German to become part of their World Cup squad.
And ahead of the game speaking the www.whufc.com he made it clear that if the team could get it together his nation were going to achieve a great deal at the competition.
Unfortunately his hopes didnm't get off to a great start as the team were turned over following a late comeback by the Japanese in Qatar this afternoon (Wed).
Kehrer was an unused sub as the Germans after taking a lead from the penalty spot in the 33rd minute were beaten by goals in the 75th and 83rd.
Kehrer in reckoning that not many teams would stop the Germans but had clearly forgotten all about the unfancied Japanese.
The defender had told the Hammers official site: "We have a team with great players with huge quality. It's a little bit similar to West Ham, because there's still some things to figure out and to find connections inside of the team to get the best team performance to get the best team results possible.
I'm really hoping that we will find that in the World Cup and when we do, there's not going to be many teams that can stop us.
So I think there is a good chance for us. Of course, we have to be at our best. as it's a World Cup, there will be the best players there, so we need to be at our best and when we are we can go very far in this competition."