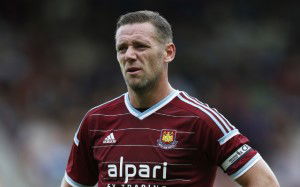 Eye witnesses at last night's Development Under 21 game under the flood lights at the Boleyn Ground claim Kevin Nolan played a centre back role for beginning and end of the match.
The match against Sunderland's Under 21's was won 2-0 thanks to a Elliot Lee brace. It is claimed that Sam Allardyce was present last night watching the first team trio of Kevin Nolan, Ricardo Vaz Te and Matt Jarvis and there was speculation whether Sam was trying the 32 year old Kevin Nolan in a centre back role in case cover is needed because of injuries later in the season.
Nolan signed a five year contract in June 2011 so has over 1 year and 8 months remaining on his reported £50,000 per week contract but it remains to seen whether he could fulfil a centre back role to Premier League standards in the final year and a half of his contract.
Nolan himself admitted he faces a fight to win back his place in the West Ham team. Last week he said "No one is guaranteed a game, If you don't play well there is someone breathing down your neck and that can only be good for the squad. If you want to get better you need that strength in depth."
Nolan, Jarvis and Vaz Te are all expected to be available for selection for Sunday's match against QPR. After the match Nolan told WHUFC.com "It's been five-and-a-half weeks since the fracture and I felt like I'd be out for a while. After about 50, 60 minutes I started to feel my legs wobble a bit. I'm just pleased to get fit and I thank them for helping me get fit again.'