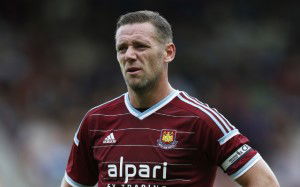 A recent trend on the West Ham official website is to run an interview with a player about to make their first debut or come back from injury.
In recent games this has happened with Enner Valemcia, Carl Jenkinson, Alex Song and Diego Poyet all of which went on to start after a major profile or interview appeared on the official website the day before the match.
It came as no surprise to Claret and Hugh today that the club website features a major interview with Kevin Nolan ahead of the Hammers derby with QPR on Sunday.
In the WHUFC.com interview Nolan says "I am looking forward to facing a really good friend of mine in Joey Barton, he is a good lad who speaks his mind, which I always find refreshing.
"He sometimes goes too far, but he's a lovely lad with a big heart and a great family behind him who I know. I captained Joey at Newcastle and he was very respectful of me and helped me in a lot of ways, he was a good voice in the dressing room and it was great to play alongside him."
If I was a betting man I would say this is the club preparing us for a Kevin Nolan start on Sunday.