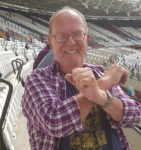 Hughie Southon's Carabao Cup verdict 
It always hurts – going over there and getting beat.
Even after all these years it is the ultimate sickener for me. Don't like the club or the people running it – NEVER HAVE…NEVER WILL!
What made it so much worse tonight was that here was a Hammers team with Masuaku exposed as a defensive left back, no Michail Antonio, two top centre backs short, the likes of Johnson out of position and Harrison Ashby making his  debut matching them blow for blow.
The winning goal was a mess and but for a couple of blinding saves Soucek might have won it for us. And once they got in front Spurs sat deeper and deeper the longer the game went on.
That's a huge compliment to a Hammers team in which the cracks are appearing – no Coufal, no Zouma, no Oggy, no Cresswell, no Antonio is too much for us to carry at this point.
I have little doubt that had they been available we would have won because frankly I don't think this is anywhere near a brilliant Spuds team.
They took their chances and we matched them for long periods but ultimately we are now in a position where we have won just one game in the last five.
We can only hope that we don't have to go through the whole of January before David Moyes and the board bring in new players.
A striker, central defender and left back have never been more urgently needed and surely to God the manager knows who he wants with just a few days left until the window opens.