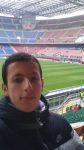 ClaretandHugh's PlayerWatch reporter Danny Leach tonight puts King Arthur under the spotlight in a relegation battle cruncher at the London Stadium.
2 – Beats Bauer and makes a cross across the face of goal
6 – Cresswell plays a short corner to him but the cross is headed away by Shawcross at the front post
11 – Recieves the ball from Hart on the half way line and dribbles to the goal line where Zouma tackles the ball for a throw
17 – Switches the ball with a great long ball cross field to Mario on the right hand side but N'Diaye heads it out for a throw
18 – A cross is blocked by Zouma
20 – Makes a good infield pass to Fernandes dragging two Stoke players out of the game
20 – A cross goes out for a goal kick
31 – Draws in three players and plays a little pass to Kouyaté taking them out of the game
34 – A cross is cleared away by Shawcross
35 – Shoots on the edge of the area but the ball goes wide by a couple of yards
40 – Bauer gives away a foul by barging him
45 – Tackles the ball from Allen in our half and dribbles forward before passing it to Mario who gives it back to him. However Shawcross blocks the subsequent cross
47 – Gives away a free kick as he pushes Bauer
47 – Dribbles to the edge of the area but Zouma tackles him
51 – Noble overshoots a long ball to him but he does very well to keep it in play. He brings the ball down before passing it to Kouyaté
54 – Doesn't controll the ball well from Cresswell's pass and Zouma snatches the ball off him
57 – Does really well to chase down a Kouyaté long ball by putting Zouma under pressure and forcing him to clear for a throw
60 – He gives the ball to Butland from a throw in
62 – Plays a great through ball to Cresswell on the edge of his area but his cross was cleared by Shawcross for a corner
64 – Clears the ball away from danger in the box which goes to Arnautovic up top
80 – He is substituted for Lanzini
Verdict – 6.5 – Given that he was being marked by at least 2-3 Stoke players whenever he got the ball, he did quite well tonight. It wasn't the great performance of which we all know he is capable but he caused Bauer and Zouma problems throughout the game.