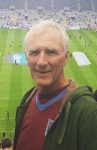 By CandH's Allen Cummings
I want to establish from the outset I'm no fan of either Lucas Perez or Pedro Obiang. The positive contribution from either of those two players to the team this season has been minimal to say the least.
But yesterday it has to be admitted they 'swung' the game for us with their combined efforts for our second goal, Obiang's shot rebounding off the post for Perez to tap home.
They should have 'won' the game for us with a repeat double-act – the cute through ball from Obiang feeding Perez's perfectly timed run to slot home our 'third'. Wrongly ruled out of course by the incompetent assistant. We'd have been home and dry then, collecting all three points we deserved.
I'm not making a case for those two players to stay, far from it. But I am making a case for giving credit where it's due. And that includes Manuel Pellegrini's decision to introduce the pair as second half substitutes.
What particularly pleased me  yesterday was that the events were a huge slap in the face to a certain vocal critic behind me in the Bobby Moore Lower. I'm sure there are other similar 'experts' around the ground that members on here could identify with.
This 'supporter' and I use that word advisedly, hardly ever seems to have a good word to say about anyone – player or management. His criticism usually starts the minute a pass goes astray, there's a tackle missed or a chance squandered. He knows all the technical terms – 'push up', 'squeeze', 'touch tight' – so clearly a student of the game (not).
This particular critic was in his element yesterday with the second half introductions of Perez, Obiang and Pellegrini who suffered without mercy.
As usual he was happy to share his thoughts with the rest of us – although he was strangely quiet when the second goal went in, and had actually disappeared before the final whistle.
No doubt to brush up on that coaching badge – or more likely to top-up at the bar.