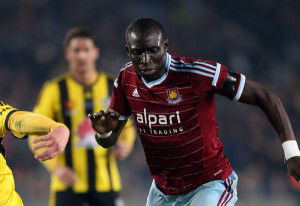 If current international form holds up we are set to see Chiekhou Kouyate overshadow Mo Diame on Monday evening.
By one of those wicked ironies that only football can produce, our former midfielder is set to make his debut for the Tigers against us.
Kouyate – a sensation since he arrived at The Boleyn – has carried his early form into the Afrtican Nations Cup qualifiers and very much at Diame's cost.
Diame could only manage the subs bench in Senegal's opening African Cup of Nations qualifier against Ahmed Elmohamady's Egypt in Dakar just four days after completing his move to the KC Stadium.
The game was won by Senegal 2-0 with Mo coming on a 69th minute substitute – in contrast Hammers new signing Kouyate played the whole 90 minutes.
Diame was also relegated to the Senegal subs bench yet again on Wednesday where he was an  un-used substitute in their game against Botswana which saw another 2-0 win with Kouyate playing 87 minutes of that match.
It remains to be seen whether Diame will find himself on the Hull subs bench on Monday while Kouyate is almost certain to start and over shadow his former team mate.