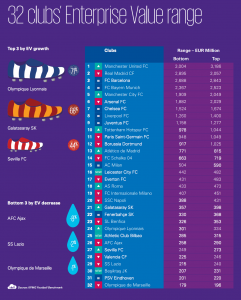 West Ham have been excluded in a recent report of The 32 European elite of football clubs in terms of valuation.
Eight clubs from the Premier League were included including Everton, Leicester City, Spurs, Chelsea, Liverpool, Manchester City, Manchester United and Arsenal but the Hammers were snubbed.
The selection criteria was as follow
1. Clubs must be among the top 50 European teams by total operating revenues;
West Ham turnover of £142m  in 2015/2016 puts them in 18th place in Europe and able to fulfil these criteria.
2. Clubs must be among the top 50 teams according to the 5-year UEFA coefficient. In case one of the above criteria is not fulfilled, a club could still be shortlisted if it meets criteria 3.
West Ham miss out here as they are ranked 108th in UEFA 7 places behind Wigan who are 101st
3. It is among the top 30 European teams by number of social media followers (Facebook, Twitter and Instagram) as at 31 March 2017.
West Ham has 1.13m Twitter followers, 2,051,674 likes on Facebook and 382,000 followers on Instagram. In February 2017 Business Insider UK ranked the Hammers the 20th most followed club on social media within Europe as did Deloitte in their annual report of money in football.
By my calculations, West Ham should have been shortlisted on criteria 1 and 3.
The full report can be found with its questionable selection criteria can be found at https://assets.kpmg.com/content/dam/kpmg/xx/pdf/2017/05/football-clubs-valuation-the-european-elite-2017.pdf