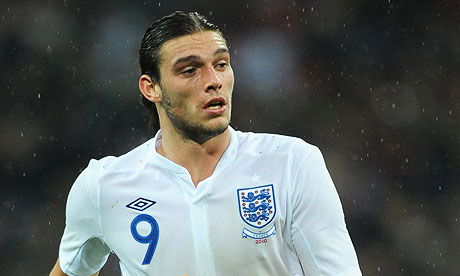 Southampton striker Rickie Lambert has admitted he is terrified he will lose his spot on the plane to the 2014 World Cup – and be replaced by West Ham hero Andy Carroll!
The big Saints frontman is in the England squad to face Denmark on Wednesday but is well aware Carroll's ability could see him left at home when national boss Roy Hodgson makes his final selections this summer.
Lambert didn't mention Carroll by name but we all know that was who he was talking about when he candidly admitted he has two months to prove he is better than the competition.
He said: "Obviously, I still understand it's nowhere near secured. I've got two months to try to prove I'm worth it, and it's as simple as that.
"I've always said if I don't make it I'm going to be grateful that I got my chance, and that's still the case now.
"I'm obviously desperate to go, that's all I'm trying to focus on.
"I understand that I've got to do well. I've got to do well in every training session, any minutes I get.
"I understand that, it's fine. I relish that to be honest, and that's what I'll be looking forward to. It's going to be great, it's going to be enjoyable."