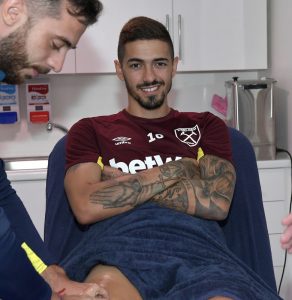 Hammer Manuel Lanzini voiced concern by saying "It would be crazy to play again until there is a vaccine'
"If you tell me if I want to play, obviously, but you need to protect others. I would not start now."
If translated accurately the news that a player like Lanzini thinks it would crazy to re-start football before a vaccine is available, is a worrying indication of how players are really feeling.
Lanzini was speaking to Argentinian radio station Closs Continental and translated by Sport Witness,
Players are being asked to share their concerns on Project Restart over WhatsApp, with the PFA then reporting their members' issues back to the Premier League. A delegate from each club has been tasked with gathering the thoughts of his team-mates via their group chats before relaying answers to the union.
West Ham's Mark Noble are among those representing their sides and in daily contact with the PFA. The union want to know their members' reservations regarding the Premier League's ambitious plan to return to competition, possibly as soon as next month. While most players say they will do as told, some have raised concerns about the prospect of returning to work while the country remains in lockdown.