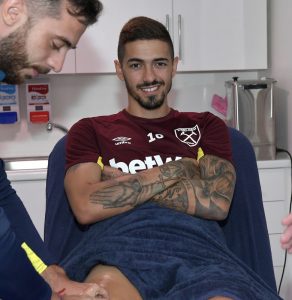 Manuel Lanzini joined West Ham on loan in 2015 with the Hammers eventually paying £10.8m to Al-Jazira in the summer of 2016 to make his move permanent. In July 2016 the Argentine player signed a four-year contract with a clause for another two years.
His wages at the time were said to be a basic of  £35,000 per week, although he is widely reported to now be on £70,000, it is my understanding that no new deal was signed to double his wages and he remains on his initial deal plus bonuses.
The club had planned to tie him down to a new long term deal last summer before his World Cup injury and FIFA ended up compensating West Ham last season paying his full wages until his return late season.
As has been widely reported now, West Ham has offered him a new five year on increased wages.
However, there remains a very real risk that he was away for free next summer and challenges the two option as not binding unless it is mutually agreed. Whether he can return to his original form before his injury remains to be seen.