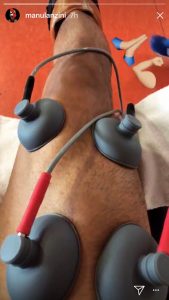 Manu Lanzini heads into surgery to repair his anterior cruciate ligament in Barcelona tonight.
Hopes rose initially that the damage is not as extensive as at first feared but until the midfielder goes under the knife there is no confirmation of the true extent of the injury.
Manu will be operated upon by pioneering orthopaedic surgeon Dr Ramon Cugat – an expert in the area. He has flown into the Catalan city supported by the new head of West Ham medical, Richard Collinge.
A comment by @WHUFCBulletin Twitter account booted hopes that things were not as bad as had been reported. He said: "There is only one of 3 potential injuries originally thought to have been endured by his knee. They need to repair the cruciate ligaments, the interior ligaments seem fine. The miniscus is fine, nothing seems bad."
However, we could receive no confirmation of that from the club's medical department who will – like everybody else – need to wait until after surgery to receive an update.
Should there be no further damage to other ligaments than the recovery period is generally between six and nine months but there can be no time put on Lanzini until he has undergone all the necessary surgery.