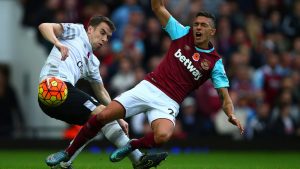 Manu Lanzini is tonight being reported as having suffered only a minor injury to his knee but is probably be unlikely to appear in any further pre-season games.
The Argentine play maker was sent for a scan on his knee raising fears that he may have a serious problem after taking a training ground knock.
He failed to appear in this evening's clash against Werder Bremen but it seems that following the scan there is no serious problem.
Premier TV revealed during their match commentary that the scan has discovered only a minor issue that should be quickly cleared up ahead of the season.
The commentary team also claim that Winston Reid will also return to training with the first team squad over the next week and that again would probably give the Kiwi sufficient time to be in line for selection against Manchester United.