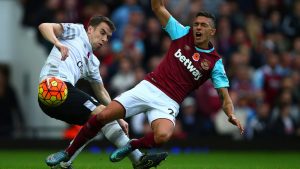 Manuel Lanzini will miss the World Cup and could be out of West Ham's 2018-19 season after suffering a ruptured anterior knee ligament injury in training.
Manu has worked his way into the Albiceleste's first choice team under Jorge Sampaoli and was set to start against Iceland in his country's opening match in Russia.
But he now faces a long spell on the sidelines and could miss the whole of the 2018/19 season with what is a serious injury.
In a statement the Argentine FA revealed the midfielder the rupture was to his right leg and that he would definitely miss the tournament in Russia.
It said: "Manuel Lanzini, suffered in this morning training session, the rupture of the anterior cruciate ligament of his right knee."
And early indications are that the player could be out for the whole of Manuel Pellegrini's first season at the London Stadium.
It's a massive blow to the Hammers which could even force Pellegrini back from Chile to re-asses the club's targets for the summer.
More to follow as we get it….