Manuel Lanzini is out to repeat his previous heroics against Spurs as the Hammers prepare to take on their London rivals in a Carabao Cup quarter-final.
The two sides will meet on Wednesday evening with a place in the semi-finals at stake.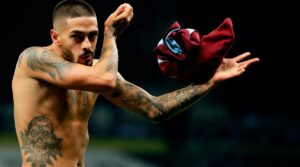 The Hammers have beaten both Manchester United and Manchester City to get this far, while Spurs have beaten Wolves, on penalties, and Burnley.
Lanzini has history against Spurs, having scored that sensational goal against them in the final minute at the Tottenham Hotspur Stadium, earning the club a 3-3 draw after going 3-0 down.
It was a remarkable strike from the edge of the box that arrowed straight into the top corner and Lanzini admits it is one of his favourite memories of his Hammers career.
Quoted by The London Evening Standard ahead of this week's last-eight meeting, he said: "It's the first thing that they [fans] say to me.
"It's understandable because people always remember those important moments and this was one of those nicest moments we saw that year. In a difficult year with lots of complications; because there were no people in the stadium, because of Covid, because of so many things.
"People remember this goal really well.
"It's always nice to play games like this, they're the derbies. It's fun to play them, especially after the goal that I scored. Hopefully it can be another one like that. It's an important one for us, for the team."
The Hammers will be out to repeat their win over Spurs earlier this season and secure safe passage to the last four.