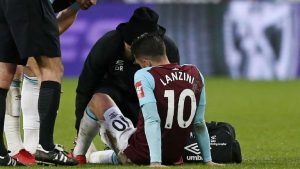 West Ham manager David Moyes has admitted that Manuel Lanzini is suffering from medial ligament injury and remains a doubt for Sunday's game against Chelsea.
The Argentine suffered a knock while on International duty and was ruled out for the London Stadium win over Southampton last week.
Moyes told reporters yesterday at Rush Green: "He's back running, although he was running last week as well. He's got a medial ligament injury that is affecting him from turning, twisting and turning. He's running in straight lines at the moment. I'm hoping for an update tomorrow on how he is. I wouldn't completely rule him out but he is a doubt."
A medial ligament injury or sprain is a tear of the ligament on the inside of the knee, usually a result of twisting or direct impact. A mild medial ligament injury or grade one sprain should take around three weeks to fully recover. Lanzini is thought to have suffered the injury on 23rd March in the game he scored his debut goal for Argentina against Italty in Manchester's Etihad Stadium.
The playmaker has made 21 appearances this season scoring three goals and making five assists.