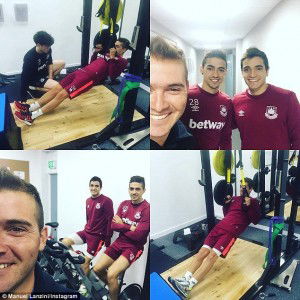 Manuel Lanzini has been joined by his brother Thomas at Rush Green.
Older brother Tomas Lanzini, 24, has been checking out the facilities at West Ham's Rush Green training ground during a break in his season with Chile's Deportivo Nublense for whom he plays as a midfielder. They both rose through the ranks of Argentine club River Plate together as youngsters.
22 year Manuel posted photos of him and his older brother training at Rush Green on his instagram account.
Earlier today Al-Jazira CEO, Ayed Mabkhout says he fully expects West Ham to shell out a fee which converts to around £7.5m to complete the deal. Mabkhout told the National paper: "If they decide before April 30th to buy Lanzini then they have to pay €10m. If they pay it we will take it. There have been no discussions with West Ham until now, but I think they're going to do it.His performance has been very good up to this moment and they need the player, but we have to wait for something official."