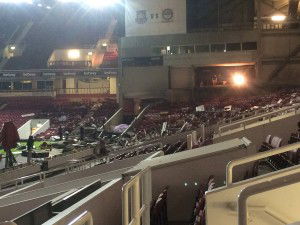 One last charity football tournament will be played today at the Boleyn before the site is bulldozed to the ground starting from tomorrow.
Barratt London will host a special  behind closed doors charity tournament.
A range of companies involved in the redevelopment of the site will be donating funds to charity in order to participate in this 'World Cup' style five-a-side tournament, with 24 squads of ten people each taking to the field. Stanmore Contractors Limited and BK Nolte Contracts Limited are the main financial sponsors for the day with Little Gem Catering providing the catering facilities at cost.
Net proceeds raised will go to charities – including:
Children of Heroes, a charity focussed on educating and mentoring the children of fallen servicemen and women.
MacMillan Cancer Support, the charity which aims to reach and improve the lives of everyone living with cancer in the UK.
The Silver Line, a charity which operates the only free confidential helpline providing information, friendship and advice to older people, open 24 hours a day, every day of the year.
Barratt Developments PLC will match the proceeds raised from the event, donating up to £30,000.
Although the stadium was purchased by the Gallaird homes from West Ham for a reported £38m it was sold on to residential property developers Barratt London in August. Barratt London will soon be building the 842 new homes on West Ham's former home in Green Street.
In a press release Barrett's finance director Tom Olsen said:
"The entire team involved in redeveloping Upton Park recognises the heritage embedded here and we are keen to mark the start of its new era with an event that will benefit a variety of charitable causes."