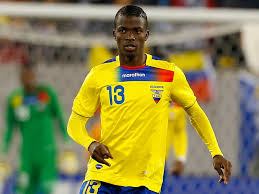 Enner Valencia has agreed terms to become a West Ham player but we  are now in what the club  hopes are the final price negotiations with his club Pachuca.
As regularly revealed on this site a deal one way or the other was always likely to be seen as taking until today (Wednesday).
And a few minutes ago our club source explained the entirely updated situation.
He told us exclusively: "The deal has been done with the player but not his club at this stage. However, hopefully that will be concluded later today.
"With Mexico being five hours behind the United Kingdom nothing will start again until late afternoon."
We were told however that a work permit now had to be organised with our source saying: "He doesn't qualify automatically but should as an exceptional talent given  he scored more goals at the World Cup as the entire England team!
"He's the leading goalscorer in Mexico plus, given the size of the fee, a work permit should be a formality.
"However, it has to go to appeal which will take 14 days as Sam Allardyce will represent the club at the hearing and he will be in New Zealand for a fortnight."