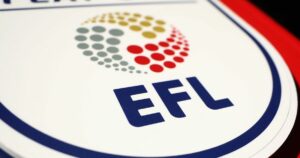 English Football League two clubs have agreed to cancel their season with positions decided by an unweighed points per game method.
League one has asked for longer to consult their member club but they are thought likely to follow the same path as League two and will eventually curtail their season also.
A Statement from the EFL last week confirmed the news alongside the desire of the Championship to try to resume their season in June.
In League two the unweighed PPG method will promote Swindon Town and Crewe Alexandra with the final playoff promotion to League one calculation yet to be agreed. Macclesfield Town, Morecambe and Stevenage face relegation but the League two have asked to look at no relegation this season for those three clubs.
In League One Rotherham and Coventry would get automatic promotion to the Championship with Tranmere, Southend and Bolton facing relegation if the season is cancelled.
Stevenage are said to have threatened legal action if they are relegated with a mathematical formula. A method of deciding the playoff promotion place has yet to be decided.
Wycombe, Oxford, Portsmouth and Fleetwood would qualify for the playoff positions under the unweighed PPG method.
The Championship is due to meet on Monday to vote on a return to stage 2 contact training which could resume training as early as next Tuesday.
The second tier league hope they can resume as early as Saturday 20th June but Saturday 27th June is seen as more realistic.
In the Championship Leeds and West Brom would get automatic promotion to the Premier League if the season is curtailed with Charlton, Luton and Barnsley facing relegation to league one.
Fulham, Brentford, Notts Forest and Preston North End sit in the Championship playoff places, again no decision has been agreed how to decide the final Premier League place if their season cannot be restarted.