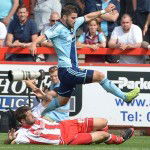 Elliot Lee admits that he's in bits this morning.
The Development Team sensation took his goals tally to nine in pre-season against Woking in the 3-2 victory yesterday.
But the effort has taken its toll and the 'boy wonder' was truly feeling the after effects of his sterling efforts yesterday.
He tweeted: "Body is in bits this morning! First 90 minutes in 6 months! Spare legs anyone!?"
Lee is forcing his way into the manager's first team plans this season after continuing where he left off last season.