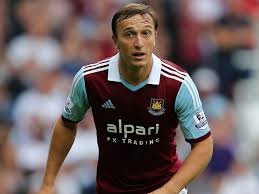 Legendary Leeds and Republic of Ireland international John Giles believes  Mark Noble, is good enough to walk straight into Martin O'Neill's European Championship qualifying team ahead of Everton's James McCarthy.
Giles, one of the most complete midfielders of his generation,is concerned about McCarthy's mentality and worries that he might never fully realise his potential.
He said: "He has the ability  but the mind is a different thing altogether. He has to impose himself more
But the former Ireland manager  would have no hesitation in selecting Noble if he is willing to play.
He said: "I would take Noble tomorrow as he would improve our team. I would have him in the squad starting off and then have a look at it.
"He is a good Premier League player and we don't have many good Premier League players. I think he would get into the team straight away."