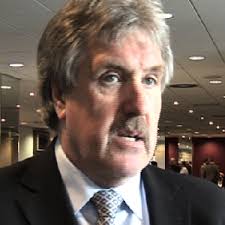 West Ham legend Phil Parkes is delighted that Sam Allardyce is gone!
In a no punches pulled exclusive interview with ClaretandHugh the brilliant former keeper declared as we told him the news: "So it's official – thank God."
And he added: "I'm not surprised. I didn't watch the game today just as I have tried to avoid watching for the past two or three months. I can't watch that stuff and I have felt so sorry for our fans who have paid to do so. It's been dreadful."
Parksey poured brutal scorn on every reason for keeping Allardyce declaring: "They say he keeps teams up but had it not been for a good start we'd have been in the same position as Newcastle today, or perhaps even worse.
"I've never seen him as a safer pair of hands than many but I've seen him provide come awful football. Some of it has been as bad as anything I've seen at this club."
Never a lover of the Allardyce 'brand,' Phil finally lost it with him  when the cupped ear incident happened against Hull last season.
He said: "You don't do that to our fans who are the greatest around. He never bought into the history of this amazing club or the passion of those fantastic supporters and that was his biggest problem."
"John Lyall  would have come out afterwards and apologised to them if a team of his had played like that and said the opposition  should have won as they deserved. John understood the way West Ham managers behave. Sam didn't.
"This has been a long time coming and I'm glad the Sam era has gone, We deserve a quality manager for our quality supporters and quality club. But I'll leave it to the owners to find him.."