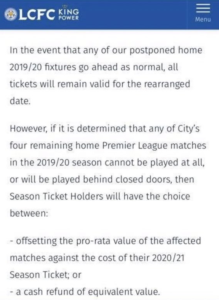 Leicester City have shown the way for other Premier League clubs by giving clarity on season ticket refunds if the season cannot be completed.
A statement by the football club through its official channels says that all tickets will be valid for re-arranged fixtures but if those fixtures can not be played they can choose between two options.
They can choose a discount from their next season ticket equivalent to the unused portion of their current ticket or opt to take a cash refund of equivalent value.
The majority of Premier League clubs including West Ham have adopted a wait and see approach suggesting they will approach the subject of season ticket refunds and cross that bridge only if the season cannot be completed.
Leicester City have taken away any doubt and have been completely clear to their season ticket holders what will happen.
West Ham has suspended any renewals of season tickets with an update promised on 30th April.