I have no complaints about the team's performance against Arsenal nor should any other fan because we gave it absolutely everything against a very good side and on any other day would have come out with something.
But my overwhelming impression was of Winston Reid who showing again that he's simply not a top four club player and if he was trying to impress Arsene Wenger he failed miserably.
He could have no complaints about the penalty yet there he was jumping up and down pleading the case. Sorry mate, you brought him down plain and simple and for much of the game looked pretty average.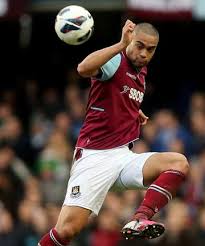 Everybody who was inside the ground or watching on a stream could feel nothing but sympathy for the Irons but I'm afraid I can't agree with Sam and the others who believe the early strike by Alex Song should have stood.
Diafra was offside plain and simple and I don't believe the official had any other decision to make than to raise his flag.
Arsenal were strong and showed great movement at times but no better than us and all in all it was a great game which we weren't allowed to enjoy properly because of the final result.
However, the supporters will have left a lot happier than they did at Chelsea where the team showed nothing. You can't con Irons supporters. If you put in the shift and given it your best they will stay with you.
Obviously Adrian was outstanding and as Hugh wrote yesterday the Spanish national team should be beckonng very soon.
Morgan Amalfitano was a revelation. He has real skill and invention and a terrific work ethic. But for Adrian he would have been my man of the match.
I think we can take terrific encouragement and confidence from the Arsenal game and get right back on track against West Brom.
And as we head towards the end of the year I'd like to thank and congratulate everybody at the club for a terrific first half. You've all done a great job.
Let's kick on – we're a top six or better club!