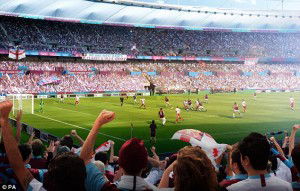 Visitors to the Stratford Reservation Centre today have been told less than 900 season tickets remain on sale for the Olympic Stadium and those are expected to sell out within days leaving tens of thousands on the priority list hopes dashed.
This week, the club confirmed it has sold 8,000 Under 16 season tickets for £99 each and a further 3,000 season tickets for band 5 at £289. The remaining 29,000 season tickets have been sold to band 1 £899, band 2 £799, band 3 £599 and band 4 £499.
3,700 seats have been sold to Corporate members and another 3,000 seats have been reserved for away fans meaning around 8,000 seats will be reserved for general sale and the club's contractual commitment to give free tickets to Newham council of up to 100,000 per year.
The club still hopes to increase capacity to 60,000 and  if the club confirms this will happen it will offer an additional 5,000 seats at band 5 prices of £289 each to take the total number of band 5 season ticket holders to 8,000.
At £289 it will be the cheapest season tickets in the Premier League.