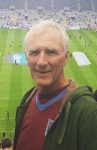 By CandH blogger Allen Cummings
Once again we find ourselves contemplating a 'big game' this weekend, when we face Huddersfield Town at the London Stadium.
We may not be desperate for points as has been the case around this time of year in the past two seasons – but there is of course another issue at hand – Mr Arnautovic!
Also, equally important as points this weekend is a top display after the events in Cardiff last weekend we need an uplifting  performance big time.
To use a horse racing analogy in Cheltenham week, the finishing post is in sight, the winner's enclosure is beyond us, but the prize-money for places is still worth striding out for.
We have enjoyed some excellent performances at home this season – now we need another on Saturday to get us back on track down the home straight.
The team appeared to find inspiration for victory over Newcastle in the return of our little genius, Manuel Lanzini. The crowd were buzzing in anticipation of the Argentine's return, too.
Saturday's key to success could come from Manuel Pellegrini deciding to recall Marko Arnautovic from the start and once again team him up with Lanzini.
As we have heard, there are rumours Arnie has become frustrated with only making appearances from the bench recently.
There's no denying it's a situation of his own making. Some  suggest Pellegrini has made his point and now it's time to recall the enigmatic Austria and play him from the start.
There was a brief spell last season, before injury struck, where Lanzini and Arnautovic dovetailed perfectly together.
The Austrian's explosive pace to take him beyond defenders is tailor made for Lanzini's subtle skills and eye for a pass.
Ironically, the 4-1 away victory against Huddersfield was the perfect example. They ripped the Terriers apart that day – and were a joy to behold. Saturday offers the chance of a repeat performance.
Pellegrini has stayed loyal to Javier Hernandez in recent weeks, but last Saturday his performance was particularly inept and frustrating.
The regularity with which he gave the ball away cheaply, and constantly threw his arms in the air when he was easily brushed off the ball, brought howls of derision from the travelling support.
We looked far more of a threat when Arnautovic appeared for the second half and if  Arnie has served his time in the 'glasshouse' now is the time to let him loose.