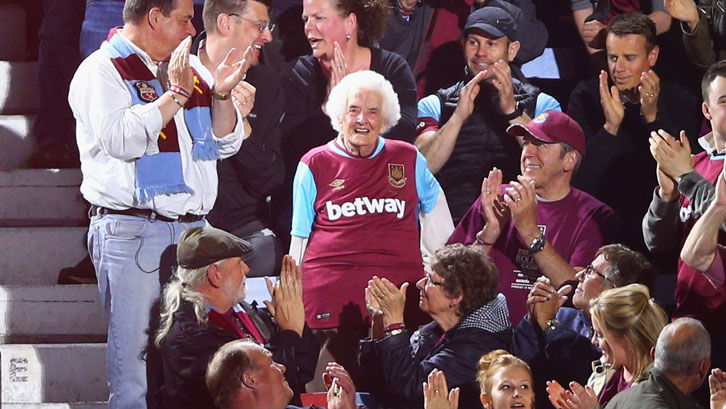 Mabel Arnold passed away peacefully at 3 am on Saturday morning, 9th February, just two months short of her 103rd birthday, having loyally followed the Hammers for 85 years WHUFC.com sadly announced this morning.
Born in east London on 2 April 1916, Mabel attended her first match in 1934 with her husband Dick, who went on to work for the club as a trainer and scout for 23 years from 1958, supporting legendary managers Ron Greenwood and John Lyall. Following Dick's sad death in 1981, Mabel continued to follow the team home and away with her son Graham.
Mabel rose to greater prominence among her fellow Hammers fans in 2016 when she celebrated her 100th birthday and was honoured at the final match played at the Boleyn Ground. She then played a starring role in the Iron Men film that documented the Club's move from Upton Park to London Stadium.
Despite her age and failing health, Mabel continued to attend matches from her seat in the East Stand, and then from the Club London hospitality section, having been upgraded to ensure she could continue to watch the team in comfort and more accessible surroundings. The last fixture Mabel managed to attend was the London derby against Tottenham Hotspur in October.
West Ham United Vice-Chairman Karren Brady said: "Everyone at the Club is saddened to hear of Mabel's passing, yet proud and appreciative that we were lucky enough to call her a member of the West Ham United family. She was an inspirational lady, who will always hold such a special place in our history, and in the hearts of all West Ham fans. Mabel will be sadly missed."
Claret and Hugh adds their condolences to Mabel's friends and family, now let's win the game against Crystal Palace in her memory.