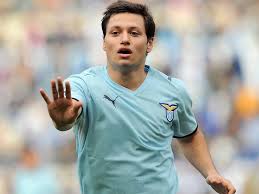 Nothing is ever straightforward in the footballing life of Mauro Zarate.
So far this week his on/off move has been reported almost non-stop.
There was talk of a £6 million fee being involved before it was reported today that he and his club Velez Sarsfield had mutually agreed to pat company which if true comes as no big surprise.
May we bring back to the attention of those who missed it earlier in the week, the troubled life and times of the guy who may or may not bring his talented but maybe tortured personality to the Boleyn!
Here is a quick review of the guy's life and times in the game as reported initially in www.hereisthecity.com
O Criticised as lazy and selfish by coaches at the Argentine club, things came to a head during one game when Zarate was benched by his manager, who was annoyed at the striker's bad habit of always going it alone with the ball rather than passing the ball.
Brought on as a substitute, Zarate exacted the kind of petty revenge you couldn't even dream up! he dribbled past a number of opposition players and rounding the keeper before refusing to score.
Despite such petulance he became a part of the successful Argentina youth team that captured the 2007 Under-20 World Cup. he scored along with a certain  Sergio Aguero.
Linked with big money moves after that, he instead opted for an odd offer, moving to Qatari League side Al-Sadd on a two-year contract for $22 million transfer fee.
He soon returned to form though and after six games and four goals, Zarate wanted out, ending up on loan at Premier League strugglers Birmingham City, where he scored four goals in 14 games before returning to Qatar. 
O He then moved on loan to Lazio followed on loan ahead of a permanent  €20 million move.
The move drew many negative headlines with one incident seeing him slide away on holioday to the Maldives during an international break!
However, he didn't  have permission from the club but instead presented them with a doctor's note claiming he needed time off to go back to his native Argentina to receive treatment for a fatigue-induced skin condition.
The club was suspicious – the forward had been training apart from the first-team for several months at this point – and they were shown to be correct when a fan, holidaying in the region, called a Rome radio station to report that the Argentine had been spotted snorkelling.
O In a bid to get onside with the fans he would take to the stands watching games in the company of the notoriously pro-fascist fans.
However he landed himself in hot water during one game back in March 2010, after being photographed during a loss to Lazio giving what appeared to be fascist salute to the team.
A spokesman later claimed that the striker was unaware of the "significance" of the gesture and that he was not even aware of who Benito Mussolini or Adolf Hitler were.