Match verdict by Hughie Southon
The score line said this was close…the performance said something quite different.
For this was a bleak reminder of what we had seen so frequently as we struggled our way through so many games this season against teams considered vastly inferior to us when proving to be otherwise.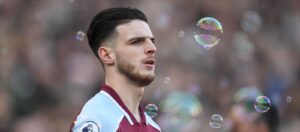 Ok, there was far more on this for the Foxes than the Hammers but that doesn't excuse a pretty lifeless performance and a defeat despite another Pablo Fornals strike.
It may well have been a performance from a team with other things on their mind – Prague on June 7 but that can't be used as an excuse.
Once again we failed to make many chances against a team that showed a lot of enterprise and no little ability
It was also a big shame that Declan Rice's last game – as will surely prove to be the case – should end in defeat on a day when he again was top player.
Jarrod Bowen's absence until late on clearly made a difference to our offensive work and Flynn Downes showed that he isn't quite there as a Premier League player.
We really need to win in the Conference Final as this could be remembered for what is was – a pretty awful season in the League.
So it really is a case of Come on you Irons.