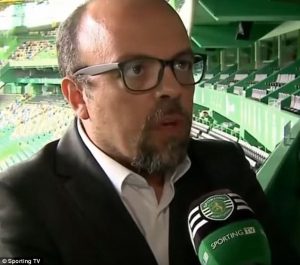 Sporting Lisbon's director of communications Nuno Saraiva has hit out at West Ham co-owner David Sullivan after his official website statement and challenged him to prove his claims on William Carvalho.
Speaking on Facebook Saraiva said: "Mr David Sullivan lies. Sporting Club de Portugal, as was said by its president, did not receive any proposal for the player William Carvalho." 
He wrote in a statement on facebook"The football industry is not the stage of an adult film in which all obscenities are allowed. For this reason, the owner of a club requires much more than this intellectual pornography.
"Mr Sullivan has a duty to prove what he says. For this reason, Sporting Clube de Portugal challenges him to publicly show the proposals he says have been made as well as the evidence that Sporting CP has received them."
The communications director admits that agents may have been offering William around, but insists that was nothing to do with Sporting Lisbon. 
He explained that "we have nothing to do with the actions of businessmen or relatives who live on the expense of players and who are offering them from club to club at a price, without a mandate, as if they are cheap merchandise in a supermarket, thus devaluing the player and the club, and creating lamentable situations that have already forced, in this case, Sporting Club de Portugal to take drastic measures to defend against these characters that are parasites in the lives of some players."