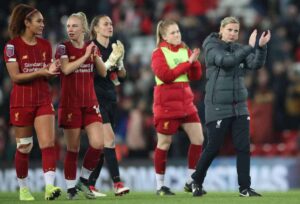 A report in the Times earlier this week claims a number of Women's Super League teams do not want the season to resume over fears that it would endanger player safety, with club representatives set to relay this information to the Football Association this week.
Liverpool, who are bottom of the women's league with six points from 14 games, are one of the clubs with concerns claimed the broadsheet. If the season were decided on points per game, and with the one usual relegation spot Liverpool would be relegated to the part-time Championship.
Liverpool has been accused of double standards while insisting the Men's Premier League is resumed so they can be crowned 2019/2020 Premier League champions.  After a supporter backlash, Liverpool appears to change their minds by briefing the press insisting they were never pushing for the WSL to be declared null and void with all results quashed.
Surely in the modern age of sexual equality if football is too dangerous for female players the same would be true of men. In fact, scientific evidence suggests the virus can affect men worse than women when it comes to the mortality rate by a factor of up 2:1.  Liverpool performed a similar U-turn after furloughing many non-playing staff only to reverse their stance hours later.
The West Ham women's team sit in 8th place on 16 points after 14 games with two games in hand on other WSL teams.