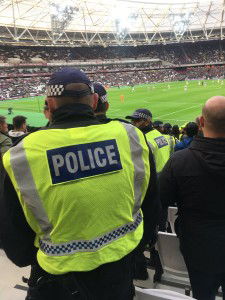 The London Assembly will hold a meeting  tomorrow morning to discus ongoing concerns around the security of the London Stadium.
In an email entitled: "What's going on at West Ham?" sent to the press the communication says:
"Concerns have been raised over security in and around the London Stadium – formerly the Olympic Stadium – following violence and disorder at West Ham United football matches. Stewarding and segregation arrangements, and the lack of police presence in the ground have been criticised."
"The wider Olympic Park is used for residential, recreational and business purposes and has a high footfall. Large numbers of people in a single space creates a range of policing and security issues: including overcrowding; public order; and protection from a terrorist attack."
"The Police and Crime Committee will tomorrow discuss policing and security in and around the London Stadium, speaking with organisations responsible for the stadium and surrounding area. "
Policing and security in and around the London Stadium: 10:00am – 12:00pm approx.
The guests are:
David Goldstone, Chief Executive, London Legacy Development Corporation
Sheila Roberts, Strategic Enforcement Manager, London Borough of Newham
Linda Lennon, Chief Executive Officer, London Stadium 185
Alan Skewis, Director, E20 LLP
Commander BJ Harrington, Metropolitan Police Service
Peter Miller, Chief Operating Officer, Westfield Stratford City
The meeting will take place on Thursday 1 December from 10:00am in the Chamber at City Hall (The Queen's Walk, London SE1).
Media and members of the public are invited to attend. 
Those who can't attend in person can watch a live webcast at 10am https://www.london.gov.uk/police-and-crime-committee-2016-12-01