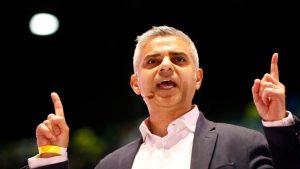 London Mayor Sadiq Khan is opposed to the Premier League's plan to resume football in London.
Khan believes it is premature to think about the likes of Arsenal, Chelsea, Spurs and West Ham to playing fixtures in the capital in June.
The Premier League are aiming to restart by June 12, with 22 of the remaining 92 fixtures in London and a further five at Watford's Vicarage Road.
Khan is keen to push back on plans for any top-flight sport in a city which has been one of the worst hit despite a noticeable dip in numbers in recent weeks. A spokesperson for the Mayor's office told London Standard Sport: "Sadiq is extremely keen for the Premier League and professional sport in general to resume. However, with the country still in the grips of this crisis, and hundreds of people dying every day, he believes that it is too early to be discussing the resumption of the Premier League and top-flight sport in the capital.
"Sadiq is also concerned about the welfare of players competing in all professional sports, not just football," added the spokesman. "There are huge questions to be asked how players could train safely, how they would travel to matches and how they could play competitive matches without the risk of spreading infection."
As the Mayor is the ultimate owner of the London Stadium through the LLDC, he could in theory block West Ham's use of the stadium on safety grounds.