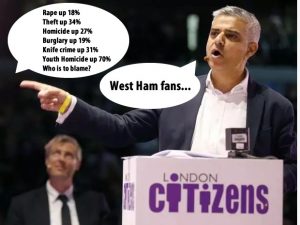 Six weeks ago Sadiq Khan granted West Ham vice chairman Karren Brady a 45 minute audience to discuss the London Stadium!
Nothing has happened since in this increasingly bitter dispute.
We understand that the Stadium owners (London Legacy Development Corporation) are adopting a "put up or shut up" approach to West Ham saying if you don't like it then sue us!
The club continues to argue that the London Stadium doesn't have the proper West Ham look and feel promised in their agreement and that 'the comparable London Clubs' clause is also not adhered to.
We understand that the London Mayor's office says Khan can't spare 10 minutes to speak West Ham Chairman David Sullivan on the phone and in reality, it appears he has little appetite or desire to resolve the disagreement out of court.
We too have tried umpteen times to get answers from the Mayor and failed and before anyone goes off on one our personal politics have absolutely nothing whatsoever to do with this – we are interested only in the Irons and our fans.
Last December, Khan appointed a retail restructuring consultant called Alan Fort to be the Stadium's Chief Restructuring Officer. He is rumoured to earn up to £400,000 per year for his part-time role.
Claret and Hugh have submitted a freedom of information request to understand how much the Stadium owners are paying these consultants and how many hours they work given their concern for taxpayers money.
Last month Alan Fort was appointed the interim CEO of Evans Cycles bringing into question who is in charge of resolving the stadium issues.
It appears the club and supporters are being given the runaround by the London Stadium owners and the London Mayor and no decisions will be made until the court case scheduled for November.
We will again be putting our issues to the  London Mayor at mayor@london.gov.uk and any West Ham supporters who feel strongly on this subject are encouraged to Email to the Mayor too at the address above.