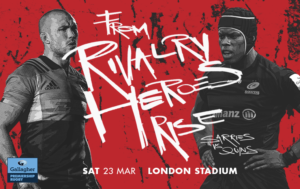 London Stadium will host Saracens v Harlequins for the second year running this Saturday, when the Gallagher Premiership fixture is contested at the venue this Saturday 23 March 2019 (kickoff 15:00).
This will be the latest rugby fixture at the London Stadium having hosted the Rugby World Cup in 2015 and the Rugby League International Four Nations in 2016.
A number of West Ham supporters have taken up the opportunity to purchase their seat to watch the egg chasers this weekend with an International break from domestic football.
There is likely to be no trouble, no arrests, no ejections, no segregation of fans, no throwing of objects and rival supporters will able to mix freely with one another before, during and after the game without any barriers to separate them.
The number of stewards is likely to be drastically reduced from the 1,300 required for football and the 57 football-booted stewards with safety glasses will most likely be absent with little chance of a pitch invasion.
Fans will be allowed to drink beer, cider or wine in view of the pitch without fear of ejection from the London Stadium.