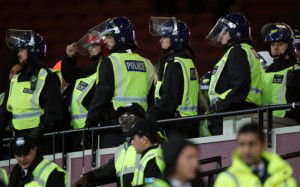 Minutes from the London Stadium Security Advisory Group (SAG) minutes from January this year reveals the number of banning orders, arrests and ejections made this season relating to West Ham.
They reveal under freedom of information that there have been 110 stadium bans, of these 10 were life bans, 35 were season-long bans, 16 were listed for other reasons,  32 had been banned pending criminal proceedings, 3 appeals were outstanding and 13 bans had been overturned.
The Met police said there had been 63 arrests since the beginning of the season with 19 people charged and/or cases going to court, 5 of these cases have received a banning order ranging from 3-5 years, a further 5 are awaiting trial while 27 supporters are on police bail.
10 people have been identified from disorder but are still awaiting arrests or interviews and a further 35 fans have yet to be identified from CCTV footage.
Revealing figures for December and January games they break down further:
West Ham v Burnley 14th December:  2 arrests 12 ejections
West Ham v Hull 17th December 1 arrest, 4 ejections
West Ham v Manchester United 2nd Jan  No arrests, 12 ejections, 4 refused entry due to being drunk
West Ham v Man City 6th Jan  3 arrests, 6 ejections
The full freedom of information request together with Security Advisory Group minutes can be found HERE