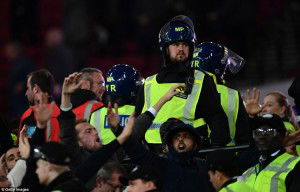 A number of London Stadium bans have been over turned by an independent panel in the last seven days.
ClaretandHugh are aware of four appeals involving six season ticket holders previously banned but understands there could be many more.
Operator London Stadium 185 and West Ham United introduced a new independent appeal process from 21st November with the independent panel consisting of two stadium safety officers not involved with the London Stadium.
One West Ham season ticket holder was financially reimbursed for games he missed after he was banned for an incident he wasn't involved in. He was initially offered three match tickets but this was later changed to a financial settlement to reimburse him.
Another two season ticket holders had their season long stadium bans reduced to just three games after the intervention of FSF case worker Amanda Jacks.
In another appeal, three season ticket holders in block 114 successfully appealed their stadium bans from the Chelsea EFL match when the operators and the club were unable to show them any CCTV evidence of the alleged incidents involving them.
Operators LS185 and West Ham United initially quoted a figure of 200 potential bans following the West Ham v Chelsea EFL match when trouble flared but both have been very quiet since that statement and have refused to release the numbers of those banned and arrested.
ClaretandHugh understand the number of bans handed out is way below the two hundred figure and some of those bans have since been over turned on appeal. The number of arrests remains at six to our knowledge and although more have been promised by police – including the Chelsea fan who walked across the segregation zone – none have been made as far as we are aware.