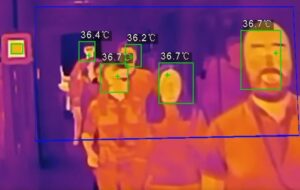 The London Stadium is considering whether to bring in thermal imaging cameras to detect visitors with fevers at security entry points.
Sports stadia and airports around the world are looking at technology to spot people with high temperatures before they mix with large crowds.
One such technology is called CrowdRx says it is fast becoming the leading provider of Fever Screening services for sports events, work places, factories, schools and government installations requiring risk mitigation for the spread of a virus.
They are one of a number of companies who sell thermal cameras and software which can scan thousands of people in real-time recording body temperatures accurately within half a degree.
People experiencing a temperature of over 38c, the threshold considered by the NHS to be a fever would be denied access to the stadium and advised to be tested or self isolate.
Public gatherings are likely to be restricted for some to come but technology like thermal cameras could play a part until a vaccine is widely available.