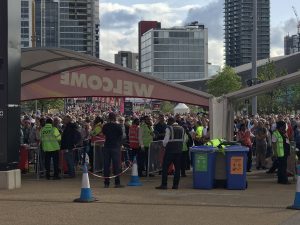 Operators London Stadium 185 have decided against a Manchester United type bag ban this season at the former Olympic Stadium.
Supporters at Old Trafford are not permitted to bring a bag larger than a small handbag (20cm x 15cm x 5cm) with them or they will have to leave it in a new bag drop zone introduced this season. A number of venues have followed suit and banned bags following the Manchester terrorist attack in May at the end of an Ariana Grande concert.
The London Stadium operator advice remains the same as last season: 'Guests visiting London Stadium are discouraged from bringing any bags to the venue. All bags will be subject to an extensive search regime, and guests are advised to arrive well in advance of the event's scheduled start time to avoid any delays.
Guests with large items of baggage and luggage will not be allowed entry, and please note that any entry with any bags will be down to the discretion of the London Stadium security staff. London Stadium operates a searching policy meaning all supporters and their belongings are subject to search, for the safety and security of all attending the match.
Supporters may be searched using a regular pat down method or via security wand and will be asked to open or remove any jackets or coats in preparation for search and to ensure entry to the Stadium as quickly as possible."
One security change this season is to move security and bag checks to the bridges which gain access to the stadium island.