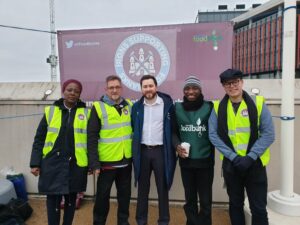 The London Stadium has donated food to local homeless charity following the postponement of the West Ham v Wolves match today.
London Stadium 185 announced on social media Through our catering partner Delaware North London Stadium has donated nearly 200 lunch packs to a local homeless shelter Whitechapel Mission.
The news comes after Liverpool has donated £40,000 to Fans Supporting Foodbanks (FSF) to help keep the charity ticking over during the Premier League hiatus.
Officials at Newcastle United have also donated food which was to be sold at Saturday's game against Sheffield United to charity after the clash was suspended due to coronavirus.
The Newcastle West End Foodbank will receive the items – which total 1200 pies, 300 portions of cold meats and several pints of milk.
Brighton and Hove Albion have said all food from hospitality lounges and retail kiosks will be donated to the city's homeless.
Irons Supporting Foodbanks who couldn't collect today have said "
Now that Sunday's game is postponed please consider helping Newham Foodbank by donating at

give.net/newham_foodbank

or booking a supermarket delivery to their warehouse at St Marks Centre, 218 Tollgate Road, Beckton E6 5YA. Mon-Fri 11-4pm"