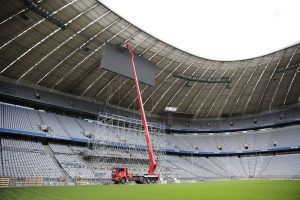 London Stadium operators have hit back at Bayern Munich and the Allianz Stadium who yesterday claimed to now have the largest digital screen in Europe.
Bayern proudly announced on social media  "The largest digital screen in Europe has been installed at Allianz Arena!"
London Stadium 185 tweeted this morning "We're not precious, but our screen is four times the size of the Allianz Arena's. London Stadium 1 Bayern Munich 0  #NoNeedForPenalties" 
Bayern Munich, however, had the last laugh asking "How about the trophy cabinet?"
West Ham supporters can sleep easy in their beds tonight knowing that the London Stadium still has the largest screen in Europe.  As the trophy cabinet, the less said the better.