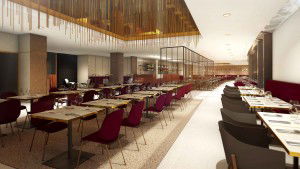 West Ham hospitality restaurants Arnold Hills, The Royal East, and the Great Briton suites in London Stadium; have all been selected by industry experts for prestigious international awards. Portview Fit-Out designed and created the suites.
The Restaurant & Bar Design Awards is a globally recognised competition dedicated to the design of food and beverage spaces. This covers every imaginable space, from ships to airports, museums to burger vans, and from revered Michelin-starred establishments to the fleeting dynamism of pop-ups.
The shortlist for the Restaurant & Bar Design Awards, which will be held at London's King's Cross on the 5th October 2017, include some of the most talked-about international projects from places as diverse as the United Arab Emirates, China, Italy, Japan, Australia, South Africa, Denmark, Panama, Singapore and the USA.