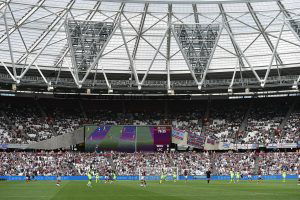 London Stadium operators and owners have missed out on any performance related bonuses due by West Ham under their 99-year agreement for the stadium after a disappointing season on the pitch.
It means West Ham's rent was fixed at the One-Off usage fee of £2.5m after we finished 11th in the Premier League and failed to qualify for Europe or win the FA Cup.
Agreed bonus payments in the London Stadium agreement.
£25,000 for any Event Year in which the Club finishes in the l0th League Position or above
£40,000 for any Event Year in which the Club finishes in the 9th League Position or above
£55,000 for any Event Year in which the Club finishes in the 8th League Position or above
£70,000 for any Event Year in which the Club finishes in the 7th League Position or above
£85,000 for any Event Year in which the Club finishes in the 6th League Position or above
£100,000 for any Event Year in which the Club finishes in the 5th League Position or above
£100,000 for any Event Year in which the Club finishes in the 4th League Position or above
£100,000 for any Event Year in which the Club finishes in the 3rd League Position or above
£100,000 for any Event Year in which the Club finishes in the 2nd League Position or above
£100,000 for any Event Year in which the Club finishes in the 1st League Position
The League position bonus has an accumulative effect so winning the Premier League would mean a bonus payment of £775,000
£100,000 for any Event Year in which the Club wins the FA Cup
£100,000 for any Event Year in which the Club wins the Europa League
£100,000 for any Event Year in which the Club qualifies to participate in the Europa League in the following Event Year
£250,000 for any Event Year in which the Club qualifies to participate in the Champions League Group Stages in the following Event Year
£1,000,000 for any Event Year in which the Club wins the Champions League,